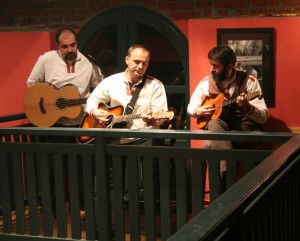 Sarma Band formed quite unintentionally a few years ago when a bunch of friends, meeting in an internet cafe and in the evenings played Balkan songs out of pure nostalgia. They then, had no idea that they would become popular around Prague and end up playing in every part of the city.
The first "public" performance was at the, now defunct, Alexander the Great Restaurant. In 2005, the group played at the opening of Mon Ami restaurant in Vršovice, where they would play nearly every friday. As true Balkan natives they enthusiatically played the traditional songs of the South Slavs with its temperamental rhythm and modern and popular songs as well. At the beginning the group consisted of three enthusiasts of balkan rhythm: Nikola (lead guitar, vocals), Duki (bass, bonga (tarabuka/dumbek) and Pero (Tambura), all three natives of Serbia.
With time the original three were joined by additional members. Sarma Band lived through music – it's repetoire included traditional songs from Macedonia, Serbia – mainly from Vojvodina, and among them also rock songs popular during the time of the former Yugoslavia, but as well brand new pieces which were as loved as those which appeared many years earlier. Sarma Band performed in restaurants such as Luka Lu, Modra Řeka, Roma, Casa Lusitana and at the music club Popo Cafe Petl at Úјеzd.
The group also appeared on the Czech Television program "Kluci v akci." You can read about that HERE (You can find some nice recipes there as well) and watch in on VIDEO

Now Sarma Band remembers a great man, lover of music and life who gave from his heart all that he could. A real joker, original frontman, a fighter who always knew what he wanted, a best friend and the best father in the world, Nikola.
On March 14th, 2010, Nikola gallantly decided he could no longer play with Sarma Band. His physical loss cannot be replaced, but we shall live on to remember because he will be in our hearts forever.
This post is also available in: Czech